Concrete Driveways, Paths and Crossovers
Adelaide's Best Concrete Driveways
Beco Constructions specialise in providing a one-stop solution for beautiful driveways, paths and crossovers.  Creating stunning driveways for homeowners and businesses across Adelaide, we offer the full range of concrete designs and styles.  From steep sloping driveways to flat driveways, straight edges or sweeping curves, we will design and construct the perfect concrete driveway for you.
With over 20 years in the business, we know exactly what works and what does not.  Your driveway will be specifically tailored to create a strong and durable construction best suited to your site, gradient and situation.  Plain or fancy, you can choose from a range of concrete colours and exposed aggregate finishes to ensure that your driveway creates the perfect style statement for your home.
Highly versatile and easy to maintain our concrete driveways not only add value to your home but are built to last.  Beco Constructions are a family-owned business, and we pride ourselves on going the extra mile to deliver excellence in all that we do.  We meticulously plan each and every concrete driveway to ensure that it not only looks great, but it will last well into the future.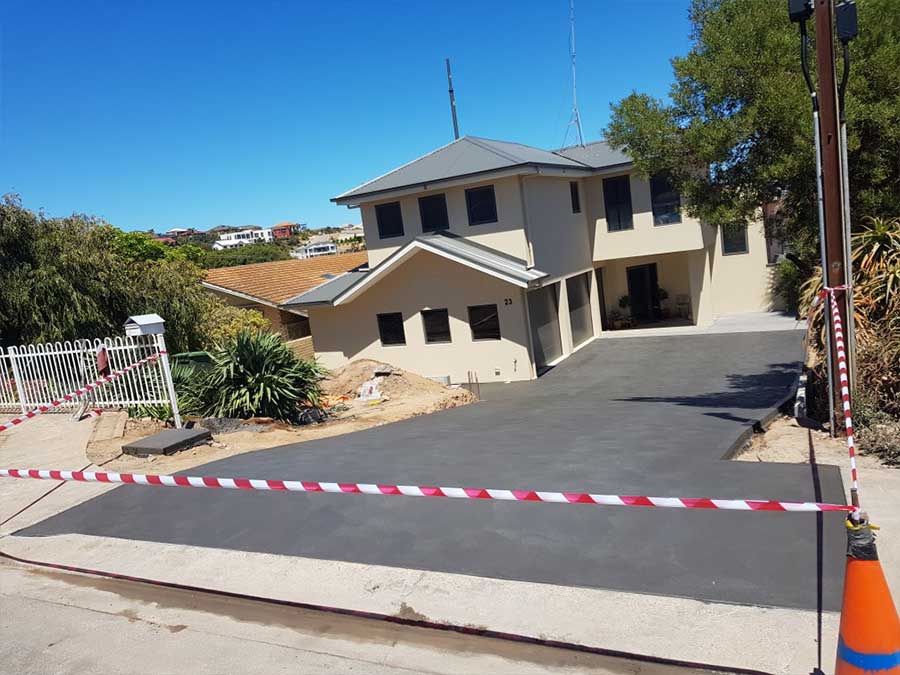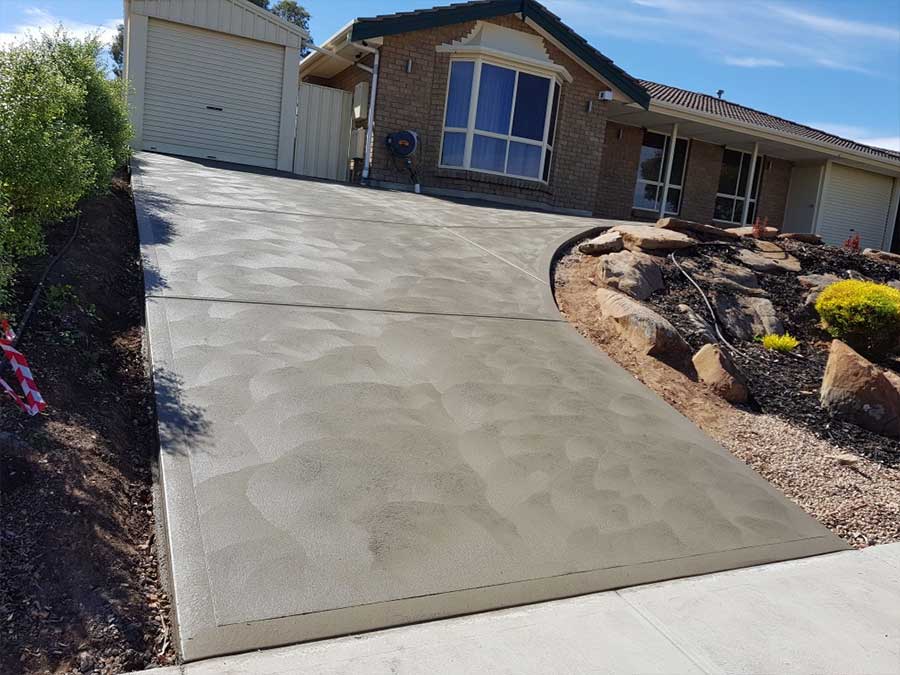 Concrete driveways that are built to last
Beco Constructions typically use 32MPa concrete poured over an 82-gauge reinforcing mesh for driveway constructions to create a structurally sound driveway. 
MPa is a measure of the compressive strength of the concrete and the higher the MPa, the stronger and more durable the concrete.  The steel mesh within the concrete provides tensile strength and increases the structural integrity of the driveway allowing it to withstand higher tensile and compressive stresses, so the thicker the steel, the more tensile stresses the driveway will withstand.  
However, for optimal performance all concrete must be laid on a well compacted and stable base, so we always recommend using a layer of compacted dolomite or rubble to ensure the optimal long-term performance of your driveway.
While we can happily reduce the concrete MPa and steel thickness to save money, we always recommend using the best and strongest materials to deliver a high-quality product that is built to last.
Newbuild homes don't often come with perimeter pathways, so why not let us take care of your driveway and perimeter paths. We can create perimeter paths, steps or ramps to effortlessly join areas on different levels, and by adding a touch of colour or exposed aggregate, you can make your pathways really standout.   Exposed aggregate driveways combined with matching perimeter pathways create an integrated design feature for your home, and both add value and a real touch of luxury to your hardscaping.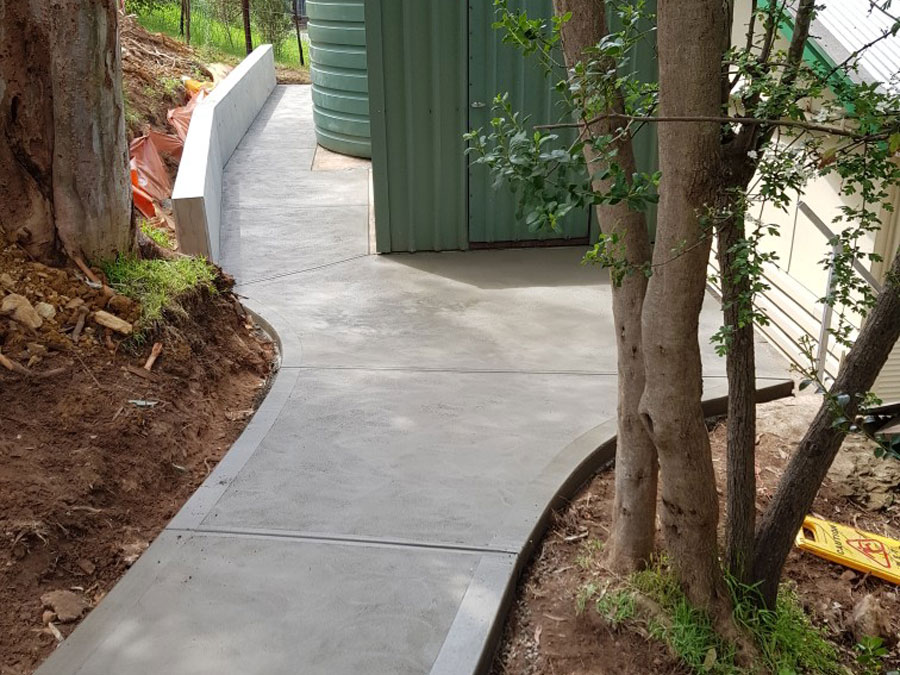 Beco Constructions – Precision and Quality
To ensure a precision job from start to finish we take care of everything from the preparation to the pour and finishing, and our services include.
Demolition, removal and disposal of existing driveway
Base preparation
excavation and removal of spoil, and laying and compacting of base material.
Preparation of the formwork, steel/mesh and spacers
Site preparation is a critical component of a concrete driveway or path, and our elite team of Adelaide concreters pay attention to all the small details.  Every element of your driveway or path is precision planned and engineered from base compaction and laser levelling to the steel specification, placement of spacers, and concrete strength, so you can trust us to deliver a quality job to meet or exceed the relevant Australian Standards.
Beco Constructions trusted reputation has been built by providing excellent customer service and great value for money.  We take the time to listen to our customers and talk you through the whole process and all your options.  Our detailed fixed price quotations will give you a full breakdown of all the works to be undertaken and materials to be used, so you know exactly what you are paying for.  Our friendly team are always on hand to offer free quotations and advice or answer any questions you may have.

Want to talk driveways?  Then talk to the experts at Beco Constructions on 08 7080 6453
Concrete Crossovers and Kerbs
Every new home needs a driveway and a crossover (also known as a vehicle crossing).  A crossover is the part of the driveway that extends from your front boundary line to the edge of the kerb and is inverted to allow easy access for vehicles from the road to your driveway.
No matter if you have a paved or concrete driveway or are extending your existing driveway, we are always available to help with your crossover.  We can remove the existing crossover and dispose of it to create a new graded crossover and reinstate the kerb line to council specifications.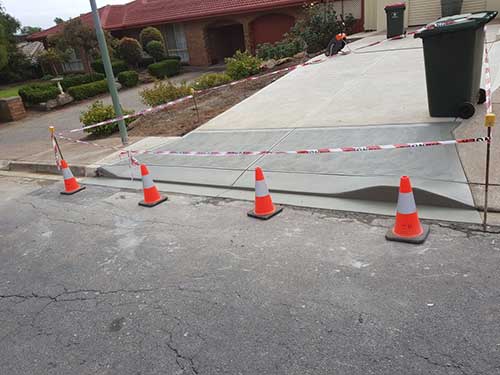 Need to get your crossover sorted? Then call the experts at Beco Constructions on 08 7080 6453